Specification
Purpose-built sunken trampoline which includes the high specification trampoline and retaining wall.
Complete kit for a perfect sunken trampoline
Excellent quality armourweave jump mat with 8.5″ springs for a brilliant bounce
Patented vented pads to prevent pad slap noise and improve bounce quality
Solid retaining wall made from eco-friendly recycled polypropolyne/ethylene mix
Clever and unique design which reduces the spoil removed from the ground
Key Features
Supplier: Jumpking (frame), Trampolines Down Under (vented pads)
Springs: 104 x 8.5″
Vented Padding: Ultra-tough 20oz reinforced vinyl with UV resistant mesh top
Max User Weight: Steel Frame & Retaining Wall: 10 years, Jump Mat & Springs: 5 years, Padding: 2 years, Netting: 2 years
Product Description
This top of range sunken  trampoline kit is specifically designed for in-ground use and is easy to install.
You will need reasonably firm ground to use this kit as the frame sits on a ledge in the ground before you dig-out the inner hole.
Purpose Built Frame

The frame is made from thick galvanised steel. The mat attaches to the top circular frame whilst the bottom section forms the base. The retaining wall is attached to the top and bottom frame sections.
New Armourweave Jump Mat

The fabric tensile strength is 20% greater than the normal mat and tear strength is improved by 30%. Improved air flow through the mat makes this the best bounce mat ever made.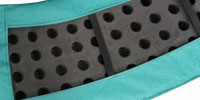 TDU Vented Safety Pad

The patented TDU Vented Safety Pad allows proper airflow through the pad eliminating 'pad slap' noise and greatly improves the bounce quality.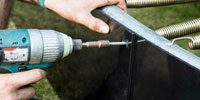 Retaining Wall
This tough and durable retaining wall is made from a 4.5mm thick eco-friendly recycled polypropylene/polyethelyne compound. It quickly and easily attaches to the frame using 5/16th inch (8mm) hexagonal self-tapping screws.
Installation by eDEN
eDEN Sunken Trampolines offers a hassle free installation service.
Contact Spencer on for free advice and quotation.
DIY Installation
This is easier than you may think and comprehensive instructions are provided with the trampoline. Alternatively, you can download the full installation guide here:
PDF – Capital In-ground Trampoline Installation Guide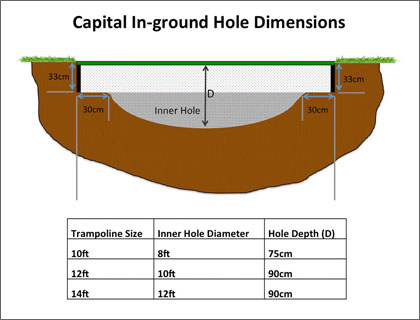 Safety Certification
There is currently no safety standard that directly relates to in-ground trampolines. However, the Capital In-ground Trampoline has been tested by TUV Sud to their test program PPP 621001B, 'Test principles for the safety of trampolines' which is based on a combination of the following standards in part or full:
EN 913 – Gymnastic Equipment. General safety requirements and test methods.
EN71 – Safety of Toys. Activity toys for domestic use.
EN 13219 – Gymnastic Equipment. Trampolines. Functional and safety requirements test.
The Capital In-ground Trampoline Kits are primarily designed for domestic use and not for commercial use and do not conform to EN 1176 – Playground Equipment Standard.
If you are planning to install this trampoline in a non-domestic environment, we highly recommend you contact your insurance company to ensure you are able to install the Capital In-ground Trampoline in your intended location.